Sunday, June 27, 2010
always liked these early new agey record covers, don't worry about the music though, its not very good.
this was a series of LPs on living love publications from the late 70s.
all revolving around Living Love center in Berkeley & Cornucopia in St. Mary, Kentucky (which was founded in 1977)
the teachings were mostly by this cult-ish leader below,
Ken Keyes, Jr.
Wednesday, June 23, 2010
DON ROBERTSON - STARMUSIC
DBR music
1982
two posts in one day to make up for lost time...imagine pixellated space dust synclavier II sprinklings floating down from the far reaches of the galaxy.....these are the vibes i get from Don Robertson's ode to the universe 'Starmusic'. after a couple of years studying with morton feldman in new york, robertson made the incredible proto-new age album 'Dawn' in the late 60s. in the 70s and 80s he naturally gravitated to synthesizer music land and made several private press and hard to find tapes and albums. 'Starmusic' is a perfect soundtrack to Calvino's Cosmicomics. and then there is the requisite blasted into outer space treatment of Satie's Gymnopedie as a bonus. thanks to a very generous follower of the blog who sent this tape (and many others!) to me. enjoy enjoy!
visit don robertson's website ->
HERE
(don's also on twitter, youtube and has a couple of blogs too....)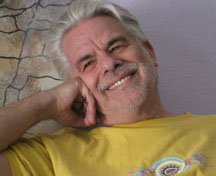 HENRY WOLFF & NANCY HENNINGS - TIBETAN BELLS III - THE EMPTY MIRROR
celestial harmonies (cel 027)
1988
thanks for your patience around here.....here is the 3rd and final installment in the Tibetan Bells series by Henry Wolff & Nancy Hennings. beautiful and crystalline metallic tones, gongs, bowls, chimes, etc.....radiating pure light. enjoy!
so many more gems waiting to be digitized and uploaded to the blog. please stay tuned in!